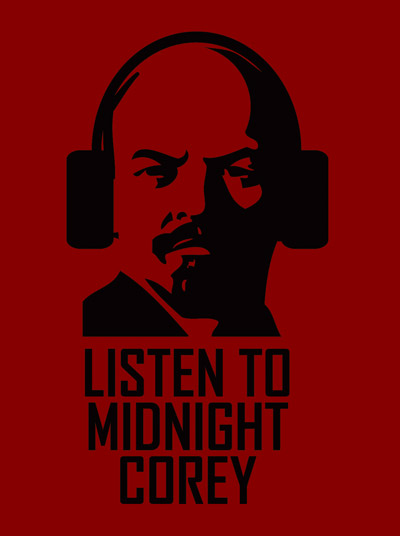 Loved by thousands, hated by millions.
Midnight Corey has made such a splash in the podcasting community that he's managed to elicit personal vendettas from fellow podcasters (Mail Order Zombie and the Splattercast, just to name a couple) and even has a troll/hater Twitter account aimed directly at him, run by Steve from the Splattercast. He's flattered by all the attention from fans and haters alike, and gives a warm thank-you!
He started this blog in October 2008 in preparation for NaNoWriMo 2009. The story was posted as he wrote it, and he achieved the goal of 50,000 words in 30 days. After a few weeks, he took the novel down as he began the revision process.
Now he posts a lot of stuff to the blog.
In April 2010, he was published for the first time in Dark: A Horror Anthology. His story is "Redemption," a zombie tale.
In May 2010, he threw his better judgment out the window and decided to start podcasting again. The Midnight Corey podcast covered a few of the things floating around his head, including zombie movies, music (original and otherwise), writing, and more.
After a series of short hiatuses after the birth of his son, Midnight Corey released two final podcasts before this site was hacked in May 2011. In the midst of heated controversy and personal attacks on him, he decided that it was best to step out of the solo podcasting arena. He now runs a successful crocheting publication, and posts horror reviews.
The entire 31-episode run of Midnight Corey's podcast is available in the archive.
In June 2011, Midnight Corey was asked to join the 8-member host panel of the Horror Jungle Podcast, a bi-weekly show featuring at least 10 movie reviews/recommendations per episode. When that podcast ended after only 3 episodes (having nothing to do with Midnight Corey for once), he was happy to return to his newly-found passion — duct tape art.
It was Fall 2011 when Midnight Corey was asked to join yet another horror podcast — The Weekly Horror Movie Podcast. The name says it all. After 14 episodes of just being one of the panel with little responsibility, Midnight Corey was asked to take over hosting/editing/creative control of the podcast when Jay of the Dead, the original host, had to step down for real-life reasons. The following 12 episodes of the show were so grueling and demanding — a parallel of Midnight Corey's real life — that the show had to be dissolved in April 2012. But those aren't the only reasons the show went away, but that's for another time.
The Horror Palace network — which was the home of The Weekly Horror Movie Podcast — was so taken with Midnight Corey's stellar persona and million-dollar smile that he was begged to keep podcasting with them in one way or another. Once again, against his better judgment, he started up The Electric Chair, a horror podcast focused on industry interviews and reviews. In May, after its first three episodes on the Network, Corey parted ways with the tyrannical network and has continued the show on his own at ElectricChairShow.com.
Always looking for more projects in his ever-expanding universe of creativity, Midnight Corey started a video companion show to The Electric Chair audio show, called The Electric Chair 2D. Its first episode debuted on YouTube on July 15, 2012, with actor Morgan Peter Brown. Since then, both shows have joined the Horror Podcasting Alliance, and The Electric Chair 2D has begun broadcasting at Spookshow.tv.