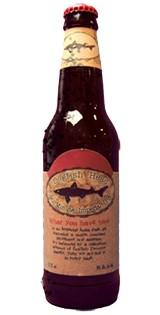 I love IPA's. This was confirmed the moment I tasted Dogfish Head 60 Minute IPA. I was very anxious to try the 90 Minute and 120 Minute varieties, having heard such good things about them.
A couple years ago, I was fortunate enough to be visiting a friend in Pittsburgh who had been saving a bottle of 120 Minute for upwards of two years, waiting for the right time to open it. He was generous enough to open it right there and share it with me. I was blown away — it's the brandy of beer. Absolutely amazing.
Many people have told me that 90 Minute is their favorite of the three, but I've never been able to locate it. I could only find it by the case, which runs nearly $60. It's not that I can't afford it, but convincing my wife that a case of beer is worth $60 is impossible.
The other day I was fortunate enough to find a 4-pack of it for $11. Worth every cent!
I'm not a beer geek, so I'm not going to go on about head and lacing and citrus fragrances. It's surely a nice-looking beer when you pour it in the glass, and is like the 60 Minute IPA, but richer, tastier, and fuller. Don't get me wrong — I LOVE 60 Minute — but this just amps up the enjoyment without overdoing things. It's not overly rich or flavorful; it's just an awesome beer.
I will buy this whenever I get the chance (and whenever I can get away with spending the money). A+!